THREE-IN-ONE
ReVolt A8 multi-functional wireless docking station is designed specifically for charging up to three devices simultaneously. This station is compatible with all iPhone models, including iPhone 12. It has a built-in Apple Watch wireless charger, as well as a fast-charging module for AirPods.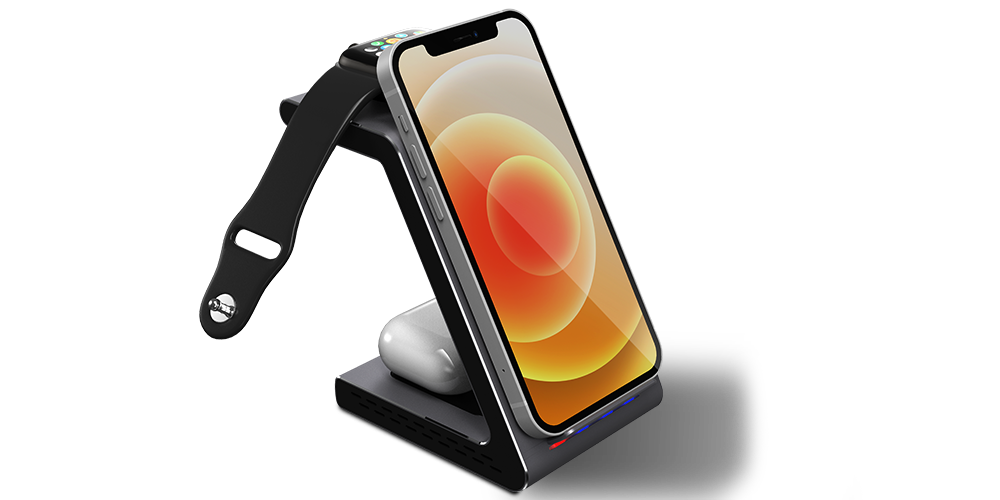 WIRELESS CHARGER
You can now charge your iPhone, Apple Watch, and AirPods simultaneously using wireless charging technology. This means that you don't need any wires at all! Place the devices on the station and they will start charging directly. Special LED indicators display the charging status of each device. You may also use the horizontal charging function, which makes it possible to watch videos and charge your smartphone at the same time.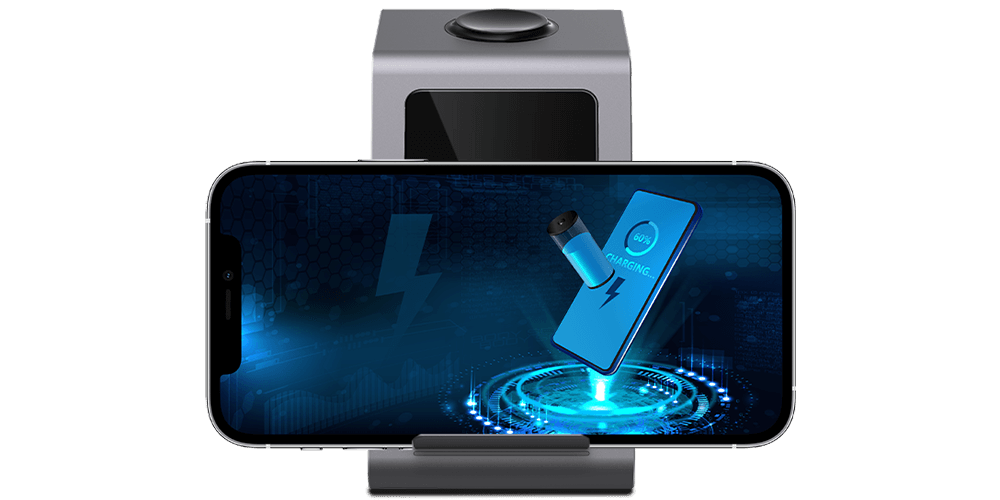 PERFECT FOR HOME AND OFFICE
One of the distinctive features of the ReVolt A8 is its compactness. Due to its small size and well-thought-out design, the charger does not take up much space on the desktop or bedside table. It is the perfect solution for home and office that can save you space.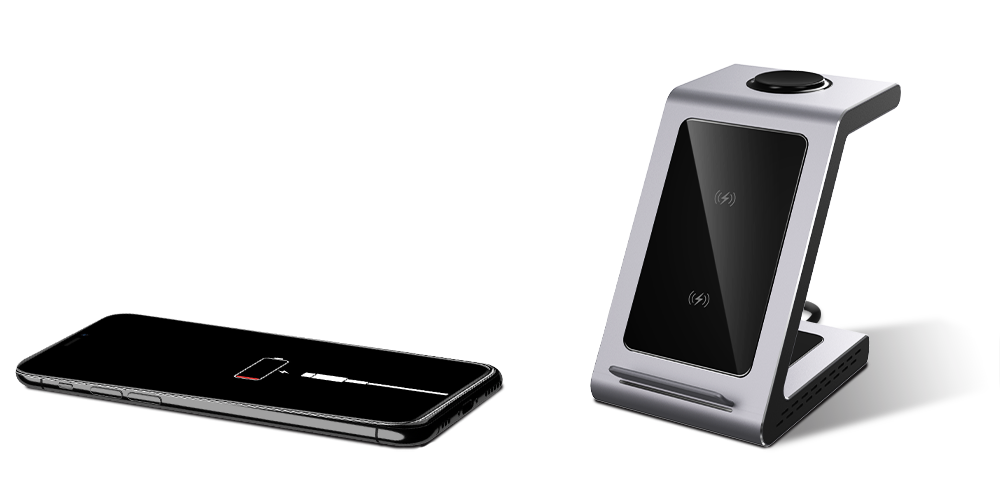 MAXIMUM POWER
ReVolt A8 charger can easily replenish the power of three devices, and they will be completely ready to work at the necessary time. This is possible since the docking station is additionally equipped with a 18W adapter. It provides enough power to all three gadgets so that they can be charged at maximum power. The device has a multifunctional protection system, providing safe charging in accordance with international standards.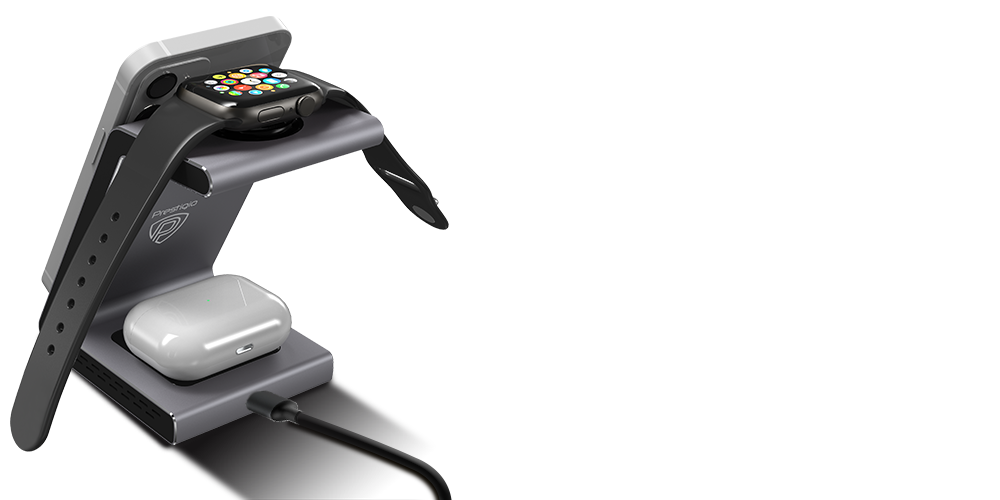 MINIMALISTIC DESIGN
ReVolt A8 case is made of high-quality materials: metal and tempered glass. There is nothing redundant in this docking station. Every detail fulfils its own function. No doubt, this compact and elegant charger will fit perfectly into both office and home interiors.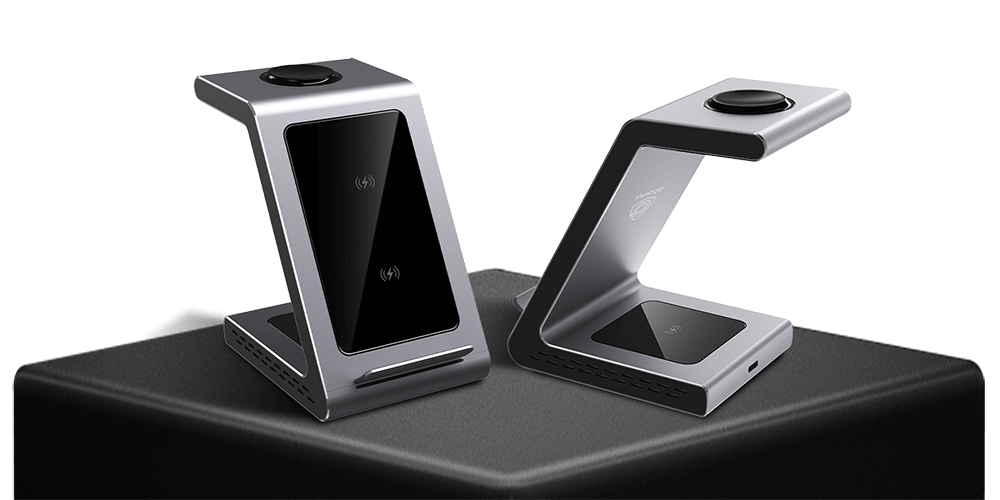 DESIGN&FEATURES
Usage
For home & office
Power Device Type
Induction Charger
Power Device Location
External
Input Voltage
DC 9 V
Rated Input Current
2 A
Smartphone Wireless Chargering Module
10 W
Headset Wireless Charging Module
5 W
Smartwatch Wireless Charging Module
2.5 W
Maximum Output Power
10 W
Power Adapter and Power Supply Features
Wireless Charging
MISCELLANEOUS
External Colour
Gray
Cable Included
USB Type C Cable
Material
Aluminium/Tempered Glass
Parent Products
iPhone, Apple Watch, AirPods; all mobile gadgets using Qi standart
Included Accessories
Power Adapter
Quick Start Guide
Warranty Card
Charging Device
DIMENSIONS&WEIGHT DEVICE
Depth (mm)
75 mm
Height (mm)
115 mm
Width (mm)
138 mm
Nominal Weight
0.28 kg